Our Leather Products Are Hand-Crafted In Charleston, South Carolina, 
Where Tradition Isn't Just Respected, It's Revered.
Eliott Golf makes distinctive high-quality luxury leather bags in Charleston, South Carolina. Our commitment to uncompromising craftsmanship can be seen in every product from our leather and canvas golf bags, handbags, to gun cases and leather accessories. Timeless by design, our collections include top grain, oil tanned and latigo leathers and Martexin waxed canvas. Each product can be personalized with a monogram or embossed on leather with any design. Every detail is important and each is personally inspected. For the discerning owner or collector there will be ample time to appreciate the design, craftsmanship and rich, deepening patina, as all bags are guaranteed for the lifetime of the product.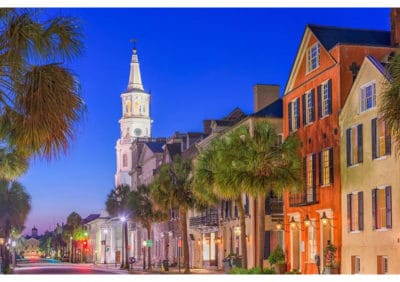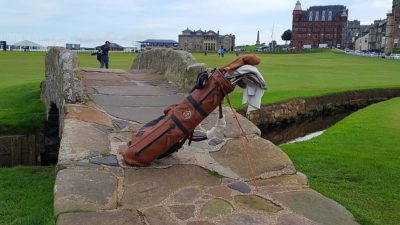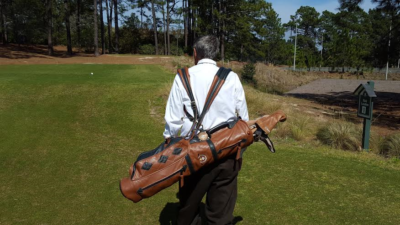 How do you build a great golf bag? It starts by taking one apart. If you ask those who know him, you'd hear that Eliott Golf was inevitable. If you ask Scott Halter, owner of the company, he would say the beginnings of Eliott Golf were in the spring of 2011 when he looked fondly on his own leather walking bag purchased some 20 years earlier and decided it should be retired.
After a night of searching the Internet and not finding the bag he wanted, Scott did the only logical thing and began dissecting his original bag. Stitch by stitch and seam by seam the old bag came apart. Several hours and 23 pieces of leather later, a single thought entered his mind — one common to great golfers and entrepreneurs everywhere, "I can do that." And so it began.
The Rest of the Story: Sacrifice & Love
Every great idea is pushed forward by the faith of its purveyor, but rarely do they succeed without the sacrifice, support and love of those around them. Eliott Golf is no different. Starting in May of 2011 the Halter family got on the Leather Golf Bag Carousel of Crazy Ideas and Costly Mistakes, it was a ride that would last 9 months.
Through bloody fingers, wasted dollars, countless prototypes and a seemingly endless line of potential sewers and seamstresses, Eliott Golf made it to 2012 with a product we are 100% proud of. And so it seemed fitting that the company should wear the name of Eliott Halter, Scott's son and inspiration.
We are still primarily a family business, but we're growing slowly and carefully, adding pieces, products and people only when they are a great fit and will contribute to our reputation that is slowly filtering out to golfers everywhere… that Eliott Golf is awesome!
Eliott Golf Bags, Head Covers & Accessories are supplied entirely from the United States and hand-crafted in Charleston, SC, home of the first Golf in the Americas and a place where tradition isn't just respected, it's revered.